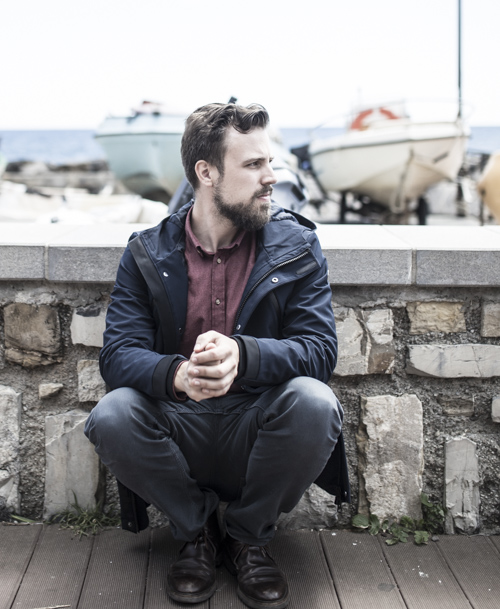 Andreas' overall artistic motivation is to reverentially expand the bandoneons' scope and horizon beyond its tango heritage or its surrogate church organ beginnings, in order to increase its accessibility to other composers and have the instrument reach and enchant a broader audience.
A virtuoso musician, graduated Master of Music (World Music) cum laude, where he focused his artistic research and thesis on establishing a repeatable process to musically fuse genres, as well as incorporating this fusion as an aid to inspire creativity on demand.
Now, progressing these concepts as a composer, Andreas is currently focusing upon two major music projects; namely, ENE and Fyr · Φάρος
MAJOR PROJECTS
ENE
This is a full 3 vinyl lp series release project. Composing for bandoneon with different harps, and field recordings, as well as for the first time writing with many multi-layered tracks. An ambitious project for an extended musical composition that will challenge Andreas because the concept for the composer is to capture and express a "genuine melancholic joy" with all original music, through the telling of a sea-tragedy: from bliss, to tragic loss, and then through grief to hope.
Disc 1 – Sildring: will tell the entire story in emotional overture. Setting musical themes, tones, and motifs that will be revisited in detail throughout the series. It is also important that the disc can stand alone, as well as also inform the subsequent discs in the series.
Disc 2 – Favn: focuses on the tragic and unexpected loss of our hero at sea. From musically establishing his seafaring identity, and world exploration, to building a home and raising a family, to tragically setting his final sail. The composer must capture and express that sudden shock and shift from bliss to loss, all the while setting up for the third and final disc.
Disc 3 – Nærvær: those left behind by tragedy must now also shoulder the extra burdens even through their debilitating grief. So, the music focus now changes to the heroine of the story who suffers greatly, but eventually, through great resilience learns to find a new melancholic type of joy and a renewed hope. The composer must grasp and pass to the audience the soul-wrenching yearning for something that can never be again, but maintaining the powerful flicker of hope for the future.
In line with Andreas' overall creative motivation, the musical genres to be touched, expressed and fused include: Classical, Celtic, nautical, improvisational, Scandinavian folk, as well as tango.
This composition and recording project is very much a personal endeavour as the sea-tragedy was, in fact, his grandparents'.
So, with this project there comes a broader outward facing hope and want for ENE to join the movement of shining a light on the Norwegian coast that is helping reinvigorate coastal communities as they continue to transition from no longer being primary industry areas of fishing and marine to becoming more recreational and lifestyle destinations. He wants to ensure that this new growth occurs into the future with reverence for our forbears by holding an eye to the past.
FYR · ΦΆΡΟΣ
Fyr
and
Pháros
both translate to lighthouse in English.
Collaboration between Andreas and international renowned Greek composer and multi-instrumentalist Michaelis Cholevas (of
Lingua Franca
) with Julie Rokseth, utilising predominantly, the tarhu, harps, and bandoneon, potentially fulfilling 2 full length albums.
This is a very unique opportunity and a very challenging task.
This project represents a great chance to pursue and progress Andreas' research topics and these functional professional processes for creativity and fusion. The project will also produce another more ambitious and concrete result of his findings.
The challenge is to write with these three vastly different instruments in a meaningful and artistically satisfying way in order to produce recordings that can be combined and performed to enhance the awareness of the importance of lighthouses in Norway and Greece (and around the world) as well as link the two nations via their musical and maritime identities. To concentrate on and express musically the correlations of a shared maritime cultural identity, with shared/analogous nautical stories, life of and from the sea, historical ocean myths, and safety of lives at sea through lighthouses. With this music they wish to create a musical intercultural dialogue between Norway and Greece with a special focus on the coastal culture which they both share, which here will be represented by the two islands Samos (Greece) and Sula (Norway).
Genre exploration:
The pieces will be art music in the chamber musical landscape inspired from styles of the Silk Road, Turkish Makam, Greek, Scandinavian folk music, Celtic, Classical, Argentinian tango, with specific parts of melodic improvisation. Andreas feels that it is important that the music reflects the Greek/Norwegian cultural meeting point.
Pilot project:
Spring 2019 they ran a limited pilot for this project on lighthouse island Sula. During this stay they discovered how well these instruments can sound together, how well the three of them worked together as composers and musicians and the deeper parallel between their maritime cultures; when the people of Sula told Michaelis how it was to live next to the sea, of the sea and by the sea, he discovered that they were very similar stories with which he had grown up with in Greece. And it is this discovery of a deeper shared connection between these cultural identities that inspires and motivates this project. They want to research and explore the relationship between these two seafaring nations and express it through these musical pieces. They decided the concept of lighthouse will stand as a symbol for their common seafaring history.
Artistic goals:
Andreas wants these pieces of music to strengthen and broaden the music life of Norway and he wants to reach this by composing and performing music for an instrument combination that is utterly unique in the world (tarhu, harps, and bandoneon). He also wants to develop this work in order to expand the genre horizons for the bandoneon – 1. through this project we will learn each others styles and one of the most challenging things of this will be to dive into the Greek and Turkish music and that he has to approach music from a different angle to understand it than what he has been taught previously and this will bring him outside his comfort zone which is why it will be so personally developing both on a music theoretical stage and a more personal stage and for his identity as an artist. 2. in this project he will again get to test his own research results from this artistic research thesis but on a bigger stage and in a bigger composition project where the whole idea is based in creating a communication between music styles and instruments that are so fundamentally different.
How Andreas intends to complete these works:
In order to broaden horizon of the composers through trying to understand the music styles where the other musicians have their backgrounds. He wants them to instruct each other and play together in the respective styles and then compose in a fusion of these (reverence). He sees them composing in group play where each individual composer takes sketches to the others and onwards they form it though reflection, dialogue, and improvisation over the material together. This will then be recorded simply and used as a start point for more detailed composing. The music will be written down but in a way where there is room for freedom by the each composer/performer. He wants every musician/composer to make the voice for their own instrument and then combined with ideas from the others the result becomes music which is well adapted to each instrument but still extends beyond the scope usually set by an individual composer/musician limited by their own musicality. To further such the boundaries of this project, Andreas also wants to explore and experiment in composing in detail for each others' instruments.
Broader agenda:
Set a focus on how Greece and Norway today can build a stronger collaboration and share a responsibility to protect the maritime environment. As it is understood from the article our oceans are very important to our actual big topic today. Som vi kan forstå ut i fra Ine Eriksen Søreide sin artikkel "Our Oceans" (publisert 26. mars 2019), er dette høyst aktuelt: "Greece and Norway are both maritime nations. We share a commitment to advancing the global ocean agenda." Hun skriver videre: "Maritime expertise is a key asset for both Norway and Greece. This is particularly true when it is applied in transformative ways to promote economic growth and safeguard the marine environment." By initiating and continuing a musical intercultural dialogue between Norway and Greece with a special focus on the coastal culture in both nations represented by Samos and Sula. This can be done by focussing on the parallel in the nations stories throughout the phases of the project, making something visible to show how good Norwegians and Greeks collaborate and compliment each other in culture and music.
Julie & Andreas
harp, bandoneon
"It's extraordinarily exquisite in its combinations and dash of audacity."
Through this uncommon mix of instruments, combining the gritty heritage of the bandoneon with the majesty and elegance of the harp, a profound musical tension is created. This unique energy sparks and illuminates them as uncommonly beautiful in their innovative musical drift between folk, tango and classical styles. Theirs is a truly rare and enchanting experience.
NEW ALBUM OUT NOW
www.harp-bandoneon.com
Cuarteto SolTango
bandoneon, cello, violin, piano
Cuarteto Soltango's unique instrumentation brings the music of the golden age of tango to life by combining traditional orchestral sound with the true spirit of chamber music.
Since it was founded in 2008, the quartet has regularly been invited to perform at important classical events such as the Schleswig-Holstein Festival, the Heidelberg Spring, Grachtenfestival Amsterdam and the Bayerischer Rundfunk studio concerts. The growing discography (Tango Extreme – 2008; Sin Palabras – 2019) has been warmly received by the classical market and the international tango scene alike.
Julie & Andreas with Michalis Cholevas
bandoneon, harp, tarhu
Collaboration between Andreas and international renowned Greek composer and muslitinstrumenaltist Michaelis Cholevas (of Lingua Franca) with Julie Rokseth, utilising predominantly, the tarhu, harps, and bandoneon.
Charlois
harp, bandoneon, violin, double bass
How does the harp translate to the brutality of the tango? What kind of dancesteps do the violin and the bandoneon need to settle in order to support each other? How could the double bass sing like the vocalists of old? These are questions this vibrant ensemble is exploring. Founded early 2016 in Rotterdam in the Netherlands where the quartet is now actively performing, they combine tango and nordic folk music. This unusual combination of genres is making the music sound precious and unique.
"Andreas belongs to this rare line of bandoneonists that brings to mind Roberto de Fillipo and Nestor Marconi."
Gustavo Beytelmann
Tango Maestro
COMPOSITIONS AND ARRANGEMENTS
Name
Instrumentation
Co-writers
Duration
Year
Awaiting
Bandoneon, harp, tarhu
07:20
2019
Tjiango
Bandoneon, folk harp
04:00
2017
Noctilique del Tango
Bandoneon, folk harp
Julie Rokseth
04:15
2018
Prólogo 3: Alma, no entornes tu ventana
Bandoneon, folk harp, field rec.
Julie Rokseth, Daniel Lercher
03:35
2018
Skyving

Wide-eye Mischief (1:50)
Conscience and Consequence (2:30)
Wonder and Regret (3:55)

Bandoneon, folk harp
Julie Rokseth
08:15
2018
Sildring
Bandoneon, folk harp
Julie Rokseth
05:30
2017
Noctilucas
Bandoneon, folk harp
Julie Rokseth
03:30
2015
Nærvær
Bandoneon, folk harp
Julie Rokseth
04:00
2014
Rosekyrkja
Bandoneon, folk harp
Julie Rokseth
04:00
2013
Bruremarsj fra Sula
Bandoneon, folk harp
Julie Rokseth
04:00
2013
Variación sobre Nocturna l
Bandoneon, pedal harp
Julie Rokseth
02:30
2014
Prólogo
Bandoneon, pedal harp
Julie Rokseth
02:10
2014
| | | | | | |
| --- | --- | --- | --- | --- | --- |
| Name | Composer | Instrumentation | Co-writers (arr) | Duration | Year |
| Desde el Alma | R. Melo | Bandoneon, folk harp | Julie Rokseth | 03:30 | 2017 |
| La Trampera | A. Troilo | Bandoneon, folk harp | Julie Rokseth | 03:00 | 2017 |
| Tango pour Claude | R. Galliano | Bandoneon, folk harp | Julie Rokseth | 04:40 | 2017 |
| Milonga Triste | S. Piana | Bandoneon, pedal harp | Julie Rokseth | 06:30 | 2014 |
| Palomita Blanca | A. Aieta | Bandoneon, pedal harp | Julie Rokseth | 04:30 | 2014 |
| Nunca Tuvo Novio | A. Bardi | Bandoneon, pedal harp | Julie Rokseth | 06:50 | 2013 |
| Tanti Anni Prima | A. Piazzolla | Bandoneon, pedal harp | Julie Rokseth | 07:20 | 2012 |
| Oblivion | A. Piazzolla | Bandoneon, pedal harp | Julie Rokseth | 04:20 | 2012 |
Copyright 2020 Andreas Rokseth
andrerok@gmail.com
Website last updated Tuesday, 30 June 2020